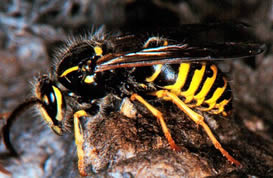 A worker of one of the many species of yellowjacket
Photo © Jim Kalisch, Department of Entomology,
University of Nebraska-Lincoln

Yellowjacket
Scientific Name:

Vespula spp. and Dolichovespula spp.

Family:

Vespidae

Order:

Hymenoptera (ants, bees, wasps)

U.S. Distribution:

All states; various species. The most common yellowjacket pests are: common yellowjacket (Vespula vulgaris)--most of the U.S.; eastern yellowjacket (V. maculifrons)--east of the Rocky Mountains; German yellowjacket (V. germanica)--northeast, central, and west coast; western yellowjacket (V. pensylvanica)--west, northern mountain, Hawaii; southern yellowjacket (V. squamosa)--eastern (south of NY), north central, gulf, southeast; aerial yelowjacket (Dolichovespula arenaria)--Alaska to southern California, southwest, and central and northern part of east coast.
This page has three tables, (1) Identification, (2) Look-alike Pests, and (3) Biology and Habits.
Identification
Match the Shape and Size
Match the Color

Worker is 3/8-5/8 inch long (10-16 mm)
Tiny waist
Appears hairless (although there are some small, fine hairs present)
Wings (4) clear and folded at rest
Stinger present at tip of abdomen

Yellow abdomen with black bands and markings
A few species white and black or with red markings

Illustration © Pinto & Associates
Photo by Dr. Pratt, CDC
Look-alike Pests
| Look-alike Pest | Differences |
| --- | --- |
| Honey bee (Apis mellifera ) | Body with branched, pale hairs; eyes hairy; first segment of hind tarsus enlarged and flattened; barbed stinger |
| European paper wasp (Polistes dominulus) | Abdomen coloration similar to yellowjacket; waist is very thin; nest is characteristic upside down umbrella-shape; legs trail below in flight; parts of antennae orange |
| European hornet (Vespa crabro) | Similar markings and colors but much larger, 3/4-1 3/8 inch long (20-35 mm) |
Biology and Habits
Match the Food and Site
Match the Habits and Damage

Adult collects sugary foods (nectar, honeydew, sap, ripe fruit, ice cream, sodas) or protein foods (insects & arthropods, dead animals, tuna, ham, fish, chicken, etc.) and feeds them to larvae and queen in the nest
Depending on species, may nest in ground (most common), in voids, or in trees or bushes
German yellowjacket constructs irregularly-shaped, papery comb nest almost exclusively in buildings - in wall or ceiling voids, insulation in attics, or in barns or sheds; rarely nests in ground
Western yellowjacket sometimes nests in buildings
Aerial yellowjacket nests in trees, shrubs, and on houses, sheds, and the like

Defends the nest site; a single yellowjacket can sting repeatedly; sensitized people can be deathly allergic to stings
Mature nests can contain thousands of yellowjackets
When void nest is stressed (German and western yellowjackets), workers can chew through plasterboard or exit light fixtures, etc. and enter living spaces
Aggressive, annoying outdoor pest at picnics, parks, near garbage cans, etc., in late summer and fall
In most areas, nests die out during winter & are not reused, but void nests may remain active later in season
Overwintering queens may enter living areas of buildings

Photo © iStockphoto/Sascha Burkard
Photo © iStockphoto/Pekka Nikonen
More on yellowjackets: Fall Yellowjackets and Their Control